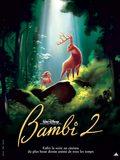 Loin de la surdose plublicitaire faite sur les Bronzés 3 : Amis pour la vie, dont le succès commercial est déjà assuré, une autre sortie de poids dans nos cinémas cette semaine : Bambi.
64 années après le chef-d'oeuvre de Walter Elias Disney, voici aujourd'hui la suite des histoires du jeune faon, de son père le Prince de la Forêt, et de ses amis Pan-Pan et Fleur. Plutôt qu'un simple « Bambi 2 », le dessin animé est intitulé Bambi & the prince of the forest dans son pays d'origine. Inutile d'en parler d'avantage, il faut aller le voir !
Notons au passage le récent rachat de Pixar par Disney.