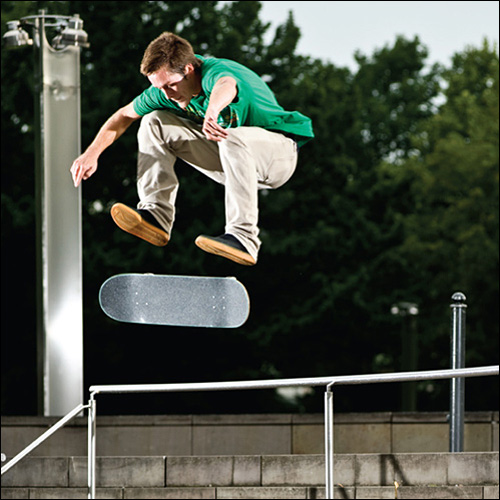 La marque de sport Nike sponsorise aussi des skateboarders et le fait savoir. Peut-être pour concurrencer les célèbres 411VM et autres marques emblématiques comme DVS, DC Shoes ou Element. C'est ainsi que Jason Hernandez a filmé en HD cette vidéo de 23 minutes, montrant le talent de Daryl Angel, Justin Brock, David Clark, Grant Taylor, Theotis Beasley et Shane O'Neill : la team Debacle.


La vidéo montre des tricks bien techniques : pole jam vertical, grind to grind, backside bigspin, backsmith to switch front crook, nollie flip crook, bigspin front blunt, switch bigspin flip en gap, etc.
A voir et à télécharger gratuitement en haute définition sur le site de Nike Skateboarding : Debacle.
Shane O'Neill est énorme et enchaine des tricks monstrueux sur des spots chinois. Un gars à suivre.
Voir le making of de Nike Skateboarding : Debacle.
Rappel des principales marques de skateboard : Blind, Birdhouse, DC Shoes, DVS, Element, Chocolate, Emerica, éS, Etnies, Jart, Flip, Girl, Globe, Independent, Matix, Osiris, Spitfire, Venture, Volcom, WESC, Zero, circle, Cliché, Orange, Blend Matoël, Baker, Anti Hero et bien sûr Vans.
Vidéo uploadée par Suchablog.