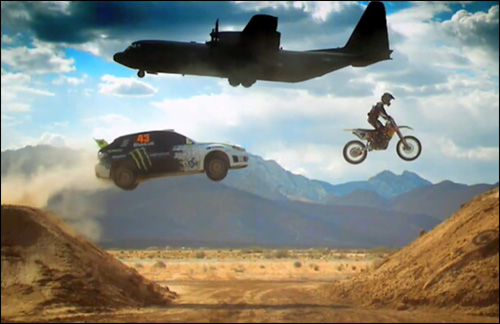 On a déjà suivi tous les exploits de Ken Block, pilote sponsorisé par des marques sympa : Subaru, DC Shoes, Monster Energy drink, BF Goodrich, etc. Pour compiler les meilleurs moments, cette vidéo regroupe les exploits réalisés en 2009 et 2008 sur asphalte, neige, terre, glace et dans le vide.
Sans compter que Ken Block affrontera Sébastien Loeb dès le prochain championnat de rallye WRC avec Ford.

Subaru en mode scooter des neiges avec quatre grosses chenilles, gymkhana, glisse sur lac salé et le récent saut en longueur, ces meilleurs moments de 2009 et 2008 sont filmés en slowmotion dans une qualité qu'il convient d'apprécier en haute définition. On le voit aussi au volant d'une Ford Escort MKII de 1978 et dans la compétition des X-Games.
http://www.youtube.com/watch?v=RjtG-dQNVIs
http://www.youtube.com/watch?v=pLzEl_0FgK8
Fort de sa seconde place au Rally America National Championship, Ken Block va se lancer dans le championnat du monde WRC de rallye automobile.
Ses sponsors sont Monster Energy, Ford pour la voiture, sa marque DC Shoes, les huiles Castrol et le jeu vidéo Dirt 2.
Dommage qu'il ne roulera pas sur ses habituelles Subaru Impreza WRX STI, il roulera sur Focus RS WRC après s'être entrainé sur Fiesta en Rally America. Rendez-vous le 7 mars 2010 au Mexique pour la première étape du championnat !
Le trailer du Monster World Rally Team :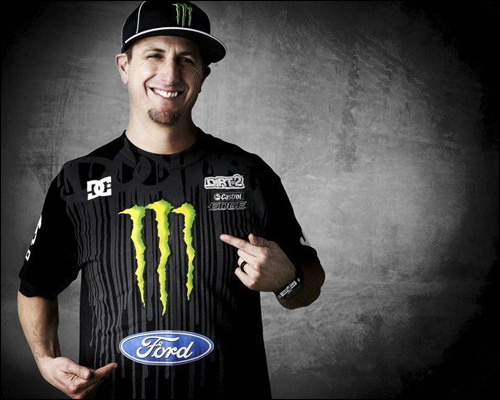 (extrait du dossier de presse)
Ken Block's rally career began in 2005. His skill and car control became quickly apparent and Block aptly nabbed Rookie of the Year in the Rally America Championship. Since then, Block has continued to race in the series, boasting a healthy number of podium appearances, as well as X Games medals. In addition to his performance in the car, Block has been a driving force in shedding light on the sport within the United States. Block co-founded DC Shoes, a worldwide leader in performance skateboarding shoes and a renowned action sports brand. His keen branding and marketing acumen not only elevated DC to their current eminent status, but has allowed Block to achieve global fame as a national rally driver through his wildly successful viral video campaigns. Ad Age named his "Gymkhana TWO" the No. 4 Viral Video of 2009.

Created and assembled by Ken Block, the object of the Monster World Rally Team is to redefine the race-team archetype. The team is driven not only to win, but to also market motorsport through innovative, creative and interactive ways. The goal: To become the bestknown team in the WRC and bring rally to the masses along the way.
D'autres vidéos de Ken Block et sa Subaru Impreza :
Un été sur le lac salé
Emission Top Gear avec Ken Block
Gymkhana Practice 1
Gymkhana Practice 2
Saut croisé entre sa voiture et la moto de Travis Pastrana
Sur un snowpark enneigé : DC Mountain Lab 1.5
Subaru transformée en motoneige
Un saut de 40 mètres de long en voiture
La totale de Ken Block