La tournée mondiale LIFAD (Liebe ist für alle da) s'est à peine achevée que le groupe Rammstein prépare déjà une nouvelle tournée. Habitués aux shows de grande envergure, les Allemands vont sortir leur premier best of, Made in Germany 1995 – 2011, qui reviendra donc sur les 16 ans de carrière musicale des six bonshommes, et proposent une nouvelle série de concerts en Europe.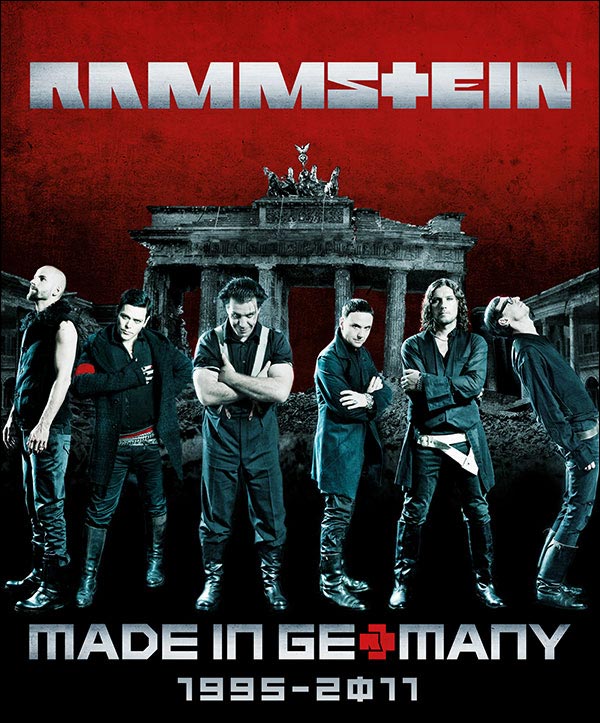 Best of « Made in Germany 1995 – 2011 »
Ce disque best of réunira 20 titres emblématiques du groupe et une nouvelle chanson exclusive. La collection complète des clips vidéos sera aussi vendue, certainement dans un coffret collector.
Sortie envisagée pour début novembre.
Concerts « Made in Germany 1995 – 2011 Tour »
06/11/2011 SK Bratislava Zimny Stadion Ondreja Nepelu
10/11/2011 HU Budapest Sportarena
12/11/2011 CZ Prague O2 Arena
14/11/2011 PL Gdanks/Sopot Ergo Arena
17/11/2011 D Leipzig Arena
20/11/2011 D Munich Olympiahalle
21/11/2011 D Friedrichshafen Rothaus Halle
23/11/2011 A Vienna Stadthalle
25/11/2011 D Berlin O2 World
28/11/2011 D Hamburg O2 World
29/11/2011 D Bremen Arena
01/12/2011 F Strasbourg Zénith
02/12/2011 LUX Luxembourg Rockhal
04/12/2011 D Düsseldorf ISS Dome
08/12/2011 D Frankfurt a. M. Festhalle
10/12/2011 D Stuttgart Schleyer-Halle
12/12/2011 CH Zurich Hallenstadion
Une seule date en France, gageons que le Zénith de Strasbourg sera rapidement sold out (capacité maximale de 10 000 personnes). D'autres concerts seront annoncés pour début 2012, tant mieux pour tous les Européens du Nord et du Sud car les salles de concert ci-dessus sont plutôt restrictives d'un point de vue géographique.
06.02.2012      LT      Kaunas Zalgiris Arena
07.02.2012      LV      Riga Arena
10.02.2012      RU      Moskau Sport Complex Olympiski
13.02.2012      RU      St. Petersburg Sport Concert Complex
15.02.2012      FI      Helsinki Hartwall Areena
17.02.2012      SE      Stockholm Ericsson Globe Arena
19.02.2012      NO      Oslo Vallhall
21.02.2012      DK      Kopenhagen Forum
22.02.2012      DK      Herning Jyske Bank Boxen
24.02.2012      GB      London The O2 Arena
25.02.2012      GB      Birmingham LG Arena
27.02.2012      IE      Dublin The O2
29.02.2012      GB      Newcastle Metro Arena
01.03.2012      GB      Manchester MEN Arena
02.03.2012      GB      Nottingham Capital FM Arena
04.03.2012      NL      Rotterdam Ahoy
06.03.2012      FR      Paris Bercy
08.03.2012      BE      Antwerpen Sportpalais
Une seconde date en France pour les amateurs de R+ !
Membres de Rammstein
Till Lindemann : chant
Richard Zven Kruspe : guitare
Paul Landers : guitare
Oliver « Ollie » Riedel : basse
Christoph « Doom » Schneider : batterie
Christian « Flake » Lorenz : clavier