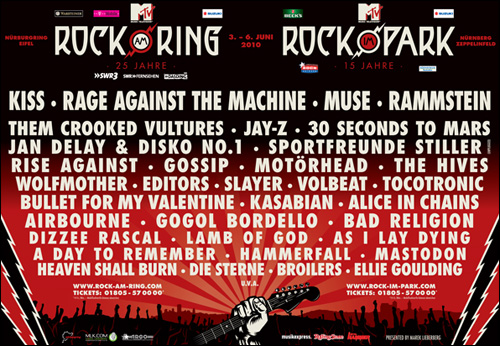 Rock am Ring et Rock im Park, deux festivals simultanés qui fêtent respectivement leurs 25 et 15 ans d'existence, accueillent cette année encore bon nombre de groupes d'exception : Muse, Rammstein, Kiss, Jay-Z, Rage Against The Machine, etc.

Entre le circuit du Nürburgring (Eifel) et le Zeppelinfeld de Nürnberg, les deux festivals allemands proposent la même programmation mais à des moments différents. Les artistes sont dévoilés au compte goutte et l'affiche complète ne sera pas connue avant quelques semaines, la liste sera mise à jour dans cet article aussi souvent que l'annonceront les messages officiels.
30 Seconds To Mars
A Day To Remember
Absynthe Minded
Airbourne
Alice In Chains
Alkaline Trio
As I Lay Dying
Bad Religion
Broilers
Bullet For My Valentine
Cancer Bats
Carpark North
Crime In Stereo
Crystal Castles
Cypress Hill
Das Actionteam
Delphic
Die Sterne
Disco Ensemble
Dizzee Rascal
Dommin
Donots (Rock am Ring)
Editors
Ellie Goulding
Eyes Of Solace
Fertig, Los!
Five Finger Death Punch
Foals
Gogol Bordello
Gossip
Halestorm
Hammerfall
H-Blockx
Heaven Shall Burn
Hellyeah
HIM
In Extremo (Rock im Park)
Indica
Jan Delay & Disko No. 1
Jay-Z
Kamelot
Kasabian
Katatonia
Kate Nash
Kiss
Lamb Of God
Lazer
Lissie
Livingston
Lo Parker (nur Rock am Ring)
Martin & James
Motörhead
Muse
OneRepublic (Rock am Ring)
Pendulum
Project 54 (Rock am Ring)
Punch & Nerves (Rock im Park)
Rage Against The Machine
Rammstein
Rise Against
Rock Rotten's 9mm Assi Rock'n'Roll
Roman Fischer
Slash
Slayer
Sleigh Bells
Sportfreunde Stiller (unplugged)
Stone Sour
Sweethead
Taking Dawn
Taylor Hawkins & The Coattail Riders
The Cribs
The Damned Things
The Hives
The Mustard Tubes (Rock am Ring)
The New Black
The Sounds
The Storm
Them Crooked Vultures
Tocotronic
Turbostaat
Volbeat
We Are The Fallen
Whitechapel
WhoMadeWho
Wolfmother
Year Long Disaster
You Me At Six
Zebrahead
Acheter des places de concert (site officiel).

Trailer des 25 ans du festival Rock am Ring et de l'édition 2010.
L'affiche du Rock am Ring 2009 :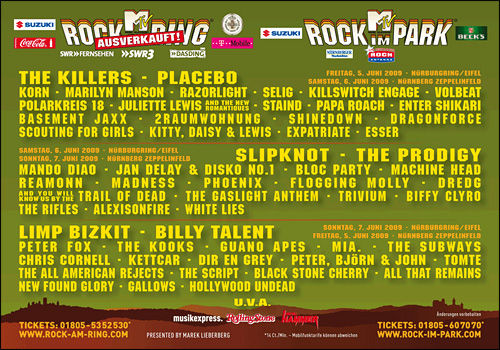 L'affiche du Rock am Ring 2008 :