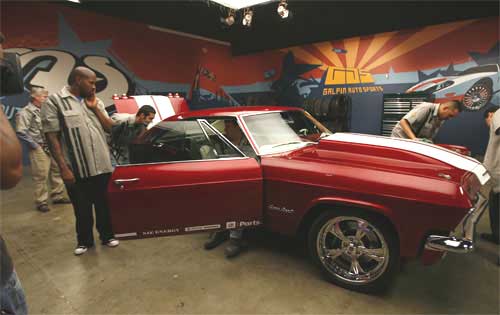 L'émission Pimp my ride est connue pour remettre en état des épaves à peine roulantes. Les normes antipollution ne sont jamais leur priorité, exception cette fois-ci avec la Bio Rocket. Prenez une base de Chevrolet Impala de 1965, gonflez le moteur à 800ch, ajoutez le Gouverneur Arnold Schwarzenegger, et vous obtenez la promotion parfaite pour célébrer la Journée de la Terre du 22 avril prochain.
« Je voudrais remercier MTV et toute l'équipe de Pimp My Ride pour mettre l'importance des carburants alternatifs et la lutte contre le réchauffement climatique sous les projecteurs », a déclaré Schwarzy.
« En installant un moteur biodiesel de 800 chevaux dans une Impala de 1965, nous avons démontré qu'il n'est pas nécessaire de sacrifier la puissance pour être écologique », de Beau Boeckmann, Président de Galpin Auto Sports, qui a aidé l'émission de X to the Z à la conception de ce bolide.