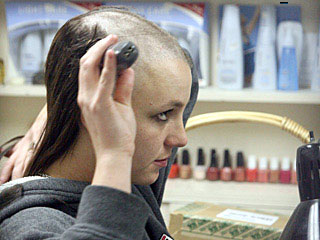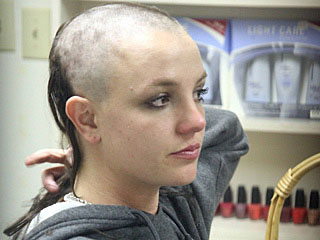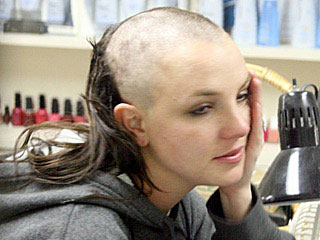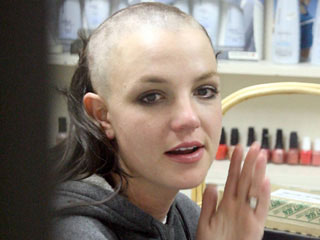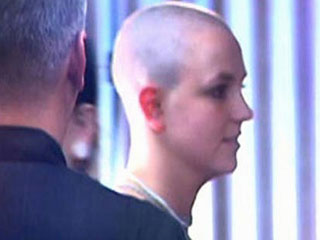 Los Angeles, February 17, 2007 – Britney Spears appeared in a tattoo parlor in the San Fernando Valley with her head shaved completely bald. Eyewitness News shot video of the newly shorn Spears, with tiny tattoos on the back of her neck, sitting for a new tattoo, a pair of red and pink lips, on Friday night.
« She just wanted something real small on her wrist, something dainty, » Max Gott, the tattoo artist at Body and Soul in Sherman Oaks, said. « She got some cute little lips on her wrist. »
Before heading to the tattoo parlor, Spears grabbed an electric clipper and shaved her own head at a San Fernando Valley salon Friday night, it was reported.
« I tried to talk her out of it. I said, 'Are you sure you're not having a bad day and tomorrow you'll feel differently about it? Why don't we wait a little bit? »' salon owner Esther Tognozzi said. « She said, 'No, I absolutely want it shaved off now.' Next thing I know, she grabbed the buzzer and she went to the back of my salon and she was shaving off her own hair, » Tognozzi said.
Source
Ce n'est pas un fake, Britney Spears est donc maintenant chauve / skin head / bald / sans le cheveu. Une invasion de poux, un bad trip ou simplement une volonté de changer de look ? Décision surprenante en tout cas.