Honorable festival pour un petit pays, le Greenfield Festival réussit encore une fois à faire venir les plus grands artistes. Rammstein et Queen Of The Stone Age n'en sont que deux exemples. Situé au pied des montagnes à Interlaken, à environ 50km de la capitale Bern, le Greenfield séduira les rockeurs suisses, français, allemands et italiens du fait de son positionnement géographique. Moins fréquenté que d'autres festivals, il n'en est pas moins intéressant vu l'affiche proposée cette année. Rendez-vous du 13 au 15 juin 2013.
Programmation officielle du Greenfield Festival 2013 du 13 au 15 juin à Interlaken
Rammstein
Queens Of The Stone Age
Nightwish
Within Temptation
Slayer
NOFX
Bad Religion
The Gaslight Anthem
Airbourne
Bullet For My Valentine
Stone Sour
A Day To Remember
Bring Me The Horizon
Boysetsfire
Parkway Drive
Turbonegro
Converge
Deez Nuts
Graveyard
Eskimo Callboy
Red Fang
Danko Jones
Caliban    
Every Time I Die
The Devil Wears Prada
Saltatio Mortis
Jennifer Rostock
The Bouncing Souls
Mono Inc.
Ajout des autres groupes dès qu'ils seront officiellement annoncés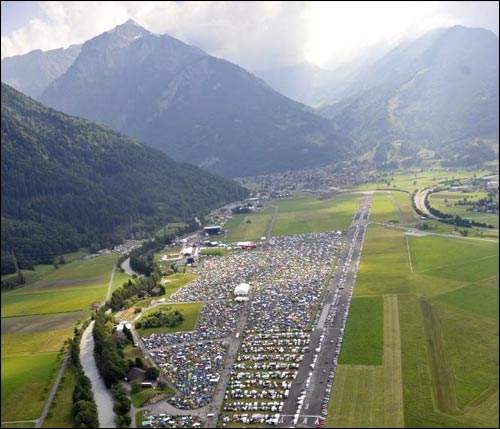 On est en Suisse donc la monnaie est le Franc suisse.
Le pass festival 3 jours coûte 180CHF soit 150€ par personne (1CHF = 0,83€ | 1€ = 1,20CHF à fin novembre 2012).
Le camping-parking est payant : 30CHF soit 25€ par voiture.
A acheter sur TicketCorner.ch. Si les cartes bancaires MasterCard ne passent pas, essayer avec une carte Visa.
A savoir qu'il faudra aussi régler en CHF sur place ou certains stands acceptent les euros à un taux très mauvais : 1€ = 1CHF.
Les autoroutes suisses conduisent au festival mais il faudra s'acquitter de la vignette (40CHF soit 33€), valable toute l'année 2013. La Suisse ne propose pas de vignette autoroutière au mois ou à la semaine.